Confession and Repentance: Confessing Sins to God according to the Bible
If you are a child of God, you are already washed by the blood of Christ and are fully forgiven for your past, present and future sins. Your relationship with God cannot be broken when you sin. However, your fellowship with God can be affected by your sins. Confessing Sins to God daily is necessary to renew your fellowship with God, because we all sin every day in many ways, both knowingly and unknowingly. In this article, we will focus on the following.
Importance of Confession and Repentance according to the Bible
Confession and Repentance with the Assurance of Pardon from God
God's Chastening
Loss of Eternal Rewards
Bible Verses on Confession and Repentance
A simple Prayer of Confession and Repentance
Here are a few reasons to emphasize Confession and Repentance daily.
Confession and Repentance for un-hindered Prayers
God hates sin and sin can hinder our Prayers. The Bible says that husbands should treat their wives right so that their prayers are not hindered. Confessing Sins to God is essential for your prayers to get answered.
1 Peter 3:7 KJV
Likewise, ye husbands, dwell with them according to knowledge, giving honour unto the wife, as unto the weaker vessel, and as being heirs together of the grace of life; that your prayers be not hindered.
Confession and Repentance reminds us of God's Chastening
Sin has consequences in this life. Our God is a loving Father who cannot tolerate sin, not only because it grieves Him, but also because it hurts us for eternity. We miss something (like an intimate personal relationship with God, our purpose for that particular period of time, our relationship with other believers, our example to the world etc..) every time we fall into sin. Confessing Sins to God with a truly repentant heart reconciles you to the intimate relationship with God.
Chastening is not punishment, but God's loving correction.
2 Samuel 7 KJV
I will be his father, and he shall be my son. If he commits iniquity, I will chasten him with the rod of men, and with the stripes of the children of men:
Psalms 38 KJV
(A Psalm of David, to bring to remembrance.) O LORD, rebuke me not in thy wrath: neither chasten me in thy hot displeasure.
Psalms 73 KJV
For all the day long have I have been plagued, and chastened every morning.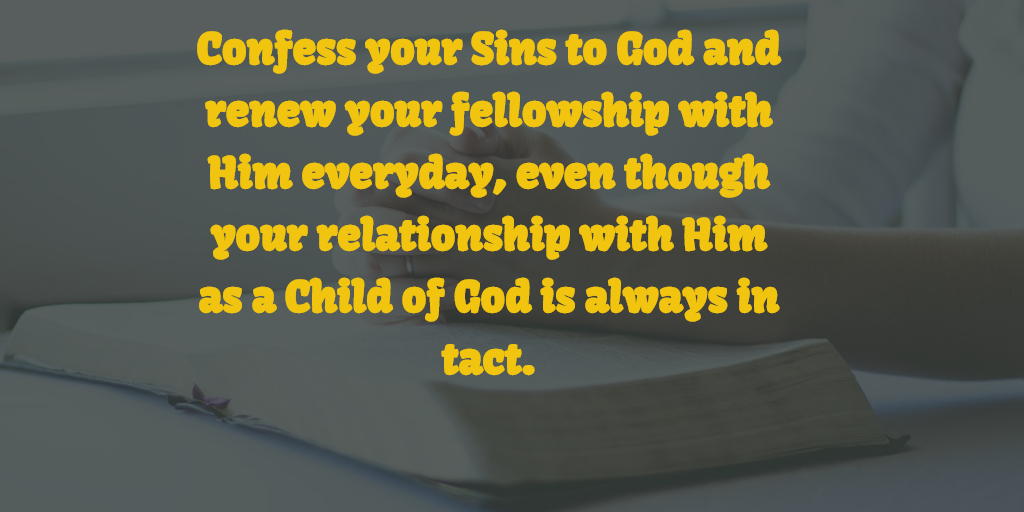 Confession and Repentance reminds us of Loss of Eternal Rewards
We are not going to face the Great White Throne Judgement where the unbelievers are judged according to their works, but we all have to stand before the Judgement Seat of Christ and give accounts for all our works on earth. We can lose our Eternal Rewards by choosing to sin against God.
1 Corinthians 3 KJV -" Every man's work shall be made manifest: for the day shall declare it, because it shall be revealed by fire; and the fire shall try every man's work of what sort it is. 14If any man's work abide which he hath built thereupon, he shall receive a reward. 15If any man's work shall be burned, he shall suffer loss: but he himself shall be saved, yet so as by fire."
Confession and Repentance with the assurance of Pardon
There is often a godly sorrow that comes naturally when we sin and this draws us to repent, seek God's forgiveness and turn away from the sin. This is good and right.
Sometimes, as believers, we may feel that our Sins are too great or severe to be pardoned, even after sincerely repenting and confessing them to God. If the strong feeling of guilt causes you to go further away from God or stop you from doing what He wants you to do, it is not from God, but from Satan. God has promised to forgive us whenever we turn back to Him in truth.
1 John 2:1 KJV
"My little children, these things write I unto you, that ye sin not. And if any man sin, we have an advocate with the Father, Jesus Christ the righteous:"
Bible Verses on Confession and Repentance
Psalms 51 is the excellent expression of King David's repentant heart, earnestly seeking pardon from God.
1 John 1:9 emphasizes that God is faithful in forgiving all those who repent and seek His forgiveness.
1 John 1:9 KJV
If we confess our sins, he is faithful and just to forgive us our sins, and to cleanse us from all unrighteousness.
Acts 19:18 KJV
"And many that believed came, and confessed, and showed their deeds."
Proverbs 28:13 speaks of the danger of concealing our sins.
Proverbs 28:13 KJV
"He that covereth his sins shall not prosper: but whoso confesseth and forsaketh [them] shall have mercy."
Psalms 32:5 KJV
"I acknowledged my sin unto thee, and mine iniquity have I not hid. I said, I will confess my transgressions unto the LORD; and thou forgavest the iniquity of my sin. Selah."
There is nothing wrong with letting your fellow believers know about your sin and asking them to pray for you.
James 5:16 KJV
"Confess [your] faults one to another, and pray one for another, that ye may be healed. The effectual fervent prayer of a righteous man availeth much."
A Simple Prayer for Confession and Repentance
Allocate a few minutes every day for a Prayer of Confession, to tell God that you truly love Him and wish to draw closer to Him. Confessing Sins to God daily reminds us to humble ourselves before God, who graciously saved us from Eternal destruction and made us sons, daughters and friends.
Psalms 51:1 KJV
"Have mercy upon me, O God, according to thy lovingkindness: according to the multitude of thy tender mercies blot out my transgressions."
Prayer: Dear God, I have sinned against you in many ways, not only by doing what is not right but also by failing to do what is right. Help me to recognize my faults and shortcomings and bring them to you, because of your unfailing Grace. Change me and make me more like You! Amen!
This Post: Confession and Repentance: Confessing Sins to God

Other posts you may be interested in:
How to Make Disciples for Christ?

Walking in Obedience to God's Word

Spiritual Transformation Process

The Christian Life

Glorify God in all you do

Creative Ways to Share the Gospel

God in the Workplace

Purpose of Suffering

Christian Priorities

God's Will For Us

God's Purpose For Us

The Lordship of Jesus Christ

Put Your Faith In God, Not Things or Others

Wilderness Experience in the Bible

Legalism in the Church