Biblical Principles on Time Management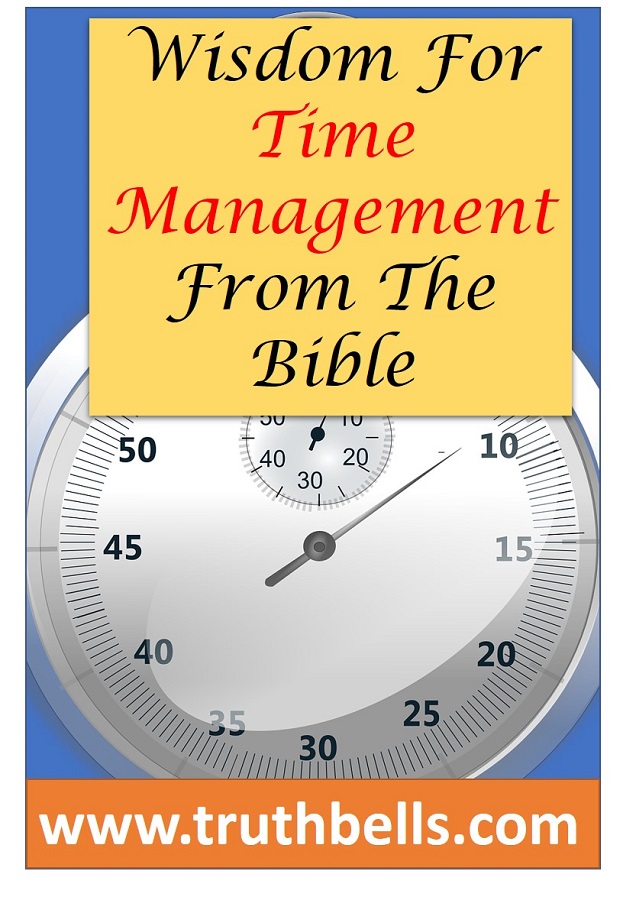 Biblical Principles on Time Management: Prayer and Planning
The first step to managing your time efficiently is to spend time with God. God is the source of power and wisdom. Without Him, we can do nothing.
Prayer is never a waste of time. It is the best use of time unless you use it as an excuse to act on what God wants you to.
You will not know how to redeem your time as God intends, without seeking His guidance.
We must always seek to know God's will for us and do it.
Matthew 6:33-But seek ye first the kingdom of God and his righteousness, and all these things shall be added unto you.
Seek God's guidance in prayer and plan your time to the best of your ability. Without God's help, you cannot plan effectively.
Our plans must be centred around God's purpose for us.
Set your action steps, the timelines and then strive to achieve your goals, with God at the centre. Leave the results to God.
A good plan will be based on the costs, priorities and results.
Luke 14:28-For which of you, intending to build a tower, sitteth not down first, and counteth the cost, whether he have [sufficient] to finish [it]?
Biblical Principles on Time Management: Seizing Unexpected Opportunities
It is important to note that sometimes opportunities come unexpectedly. We may see someone in need of our time, though it is not in our plan. In such cases, we must seek the help of the Holy Spirit and amend our plans to fulfil God's will for us for that point in time.
It takes wisdom and the power of the Holy Spirit to seize every opportunity that God places in our path.
We cannot neglect the fruits of the Spirit such as kindness and goodness when it is most needed, just to stick to our plan.
Ephesians 5:15-17-See then that ye walk circumspectly, not as fools, but as wise,
Psalms 90:12-So teach [us] to number our days, that we may apply [our] hearts unto wisdom.
Colossians 4:5-Walk in wisdom toward them that are without, redeeming the time.
Ecclesiastes 3:8-A time to love, and a time to hate; a time of war, and a time of peace.
Psalms 39:4-5-LORD, make me know mine end, and the measure of my days, what it [is; that] I may know how frail I [am].
John 9:4-I must work the works of him that sent me, while it is day: the night cometh when no man can work.
Matthew 25:1-46-Then shall the kingdom of heaven be likened unto ten virgins, which took their lamps and went forth to meet the bridegroom.
Biblical Principles on Time Management: Giving Control to God
We must pray and plan our days wisely, with the help of God. However, we should not hold our plans too tight, because, God can change them or break them at any time, for our good.
Things won't always go as per our plan and desires. That doesn't mean that we did a mistake or God did not show us his plan clearly.
God can use our failures, our problems and our seemingly wasted time for our good.
We must submit everything to God and leave it there. God is not restrained by time. To Him, thousand years are like a day. So, we cannot measure the usefulness of time based on what we see alone.
Proverbs 16:9-A man's heart deviseth his way: but the LORD directeth his steps.
Psalms 31:14-15-But I trusted in thee, O LORD: I said, Thou [art] my God.
2 Peter 3:8-14-But, beloved, be not ignorant of this one thing, that one day [is] with the Lord as a thousand years, and a thousand years as one day.
We must pray, plan and execute while allowing God to decide the results. God's plans and thoughts are higher than ours. Our understanding is limited. God knows what He is doing and He doesn't make any mistakes, not even once.
This Post: Biblical Principles on Time Management
Other posts you may be interested in:
Biblical Principles to Live By
Biblical Principles of Restoring the Lost
A Biblical View of Using Talents and Gifts
Lessons from the Book of Daniel